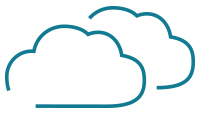 Liferay Certified Hosting and Operations Management
Omegabit is a full service, managed hosting provider, specializing in Liferay runtime operations, optimization and support. Established in 2008, Omegabit is the longest operating Certified Liferay Hosting Partner and DXP/Enterprise Edition reseller, managing more Liferay installations of all sizes than any other certified hosting provider. We operate in a Liferay optimized private cloud environment, with 24x7x365 emergency response. We provide Liferay Certified management and security performance hardening.
There is a difference between operating Liferay, and operating Liferay well. We optimize for every release, configure according to Liferay best practices, and we've got many options for acceleration and tuning depending on your use case.
Thinking of Migrating to Liferay DXP
Liferay Digital Experience Platform (DXP) gives you a full view of the customer in order to create and manage consistent customer experiences across mobile, social, desktop, in store and other touchpoints. DXP prepares you to adapt quickly to future digital innovations. Whether implementing DXP from scratch or migrating from a previous version of Liferay, Omegabit will help you make informed choices and assist every step of the way. Contact us for more information.


Our prebuilt containers are just right for most installations. They're tidy, secure, and well organized. Should you have special requirements, tell us about your needs and we'll make it happen. We support Liferay Community Edition 7.0 and DXP and all previous versions.

Omegabit offers a full range of professional services. From DXP migration support to custom load testing, scale and capacity planning and performance optimization, we can manage it all, saving you time and money.

Liferay is not secure out of the box. We make sure your installations and backend infrastructure are secure before they're activated. Your environment is hosted in our private, SOC-2 certified and PCI-compliant facilities.

Omegabit offers Liferay certified service and support. How you set up and apply Liferay, what it is utilized for, and the environment it operates in can all impact scale and performance. We'll help you to find the best balance between cost and benefit.


EPSILON Server
For enterprise, custom,
and multi-tenant installations.


DELTA Server
For larger communities, mid-size
businesses, and organizations.


Omegabit, LLC
697 Higuera St., Suite A
San Luis Obispo, CA 93401
P/F 877-411-2220
support@omegabit.com
Inquiries: portal@omegabit.com