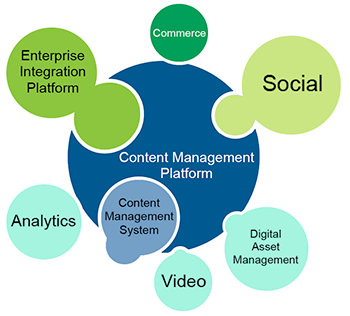 Choosing Liferay
CMS, social, and enterprise portals are all vying for position as a one-stop solution, but most only solve one angle: a CMS doesn't typically fit well as a social analogy, and social platforms don't typically work well as a complete CMS. Traditionally, neither is geared for custom development or multi-system integration like a true horizontal portal, which can be difficult to master. Liferay, on the other hand, is built from the ground up as an enterprise-grade integration framework, plus it includes intuitive and easy-to-use CMS, social/collaboration, and document management features, all tightly coupled on the backend and purpose-built for customization anywhere you require it.
With Liferay you get the most flexible customization capabilities of any horizontal enterprise portal framework: while most frameworks limit you to API integration, with Liferay you get the source code and can override any part of the framework to achieve a custom result. That's true, open, flexibility. That's Liferay.
See a comparison of features for Liferay 7.1 and DXP 7.1.
See what the Liferay platform can offer.

Omegabit, LLC
697 Higuera St., Suite A
San Luis Obispo, CA 93401
P/F 877-411-2220
support@omegabit.com
Inquiries: portal@omegabit.com