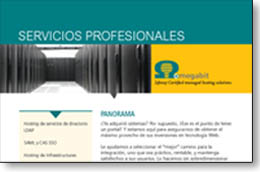 Servicios Profesionales
Omegabit ofrece una gama completa de servicios profesionales. Desde soporte para Enterprise Edition hasta servicios de prueba de carga personales, Escalamiento y optimización del rendimiento, podemos manejar todo, ahorrándole tiempo y dinero.
Liferay Identity Management and Directory Services Integration

Liferay includes sophisticated, built-in support for SSO and identity integration with many popular standards. Often, in enterprise settings, there are good reasons to enhance these workflows to meet your specific business and operating requirements.
We specialize in helping to define and implement these customizations in Liferay and have a deep background of experience solving problems like key-field change management, account expiration and deprovisioning, global logout, profile synchronization, and other complex IM integration challenges. More importantly, we'll help you sort out what can be done vs. what should be done–so a small workflow problem doesn't become a big fix.
We are able to accommodate private BOVPN tunnels to your enterprise services to ensure secure links to your systems. Our identity management experts can help with:
LDAP and directory services hosting

SAML and CAS SSO infrastructure hosting

SSO and directory integration with Liferay

Custom backend and workflow integration for advanced profile management and change control
For more information on any Professional Service, Contact Us.

Omegabit, LLC
697 Higuera St., Suite A
San Luis Obispo, CA 93401
P/F 877-411-2220
support@omegabit.com
Inquiries: portal@omegabit.com