PERFORMANCE
TUNE
your Liferay portal.
Minor tuning can shave seconds off your page load time and increase your site's Apdex score.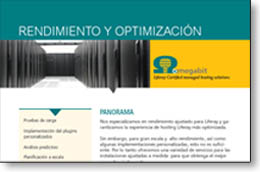 Rendimiento y Optimización
Sólo uno de los servicios profesionales ofrecidos por Omegabit, el rendimiento y la optimización le ayudará a sacar el máximo provecho de su instalación.
We are Liferay experts that can help optimize your Liferay infrastructure and site pages.
We help identify and help to fix over 20 common sources of performance bottlenecks and ensure your site is running at optimal performance.
Contact us for a free, no-obligation performance evaluation today.
Liferay Load Testing, Performance Tuning & Optimization

We specialize in performance-tuned Liferay and guarantee to provide the most performance optimized Liferay hosting experience, out-of-the-box.
Large-scale, high-performance, and custom implementations can be further optimized by custom-tuning your Liferay. We offer a variety of services to help optimize installations that need to squeeze every ounce out of the stack including:
Load testing and tuning for specific use cases to determine bottlenecks and opportunities to tune at all layers of the application (OS, DB, JVM, transactional logic, service dependencies, etc.).

Custom plugin, Liferay caching and service layer transaction tuning (source-code-aware/engineering-level).

Predictive analysis, scale, and capacity planning: Know what your application will handle before it falls over. Also, how and where you can turn up the dials to accommodate growth.

Architecture and design consulting for transaction optimization, accelerator strategies (e.g., Varnish), distributed caching (e.g., Terracotta), memory management, etc.
For more information on Load Testing or other Professional Services, Contact Us.

Omegabit, LLC
697 Higuera St., Suite A
San Luis Obispo, CA 93401
P/F 877-411-2220
support@omegabit.com
Inquiries: portal@omegabit.com