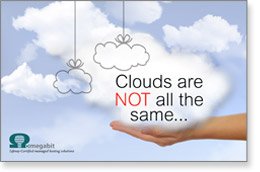 Clouds are Not All the Same
There are many reasons why you should do the research before you host your Liferay installation in a generic cloud. See for yourself why the Omegabit Cloud is different and why it pays to check out any hosting service you plan to use.
Frequently Asked Questions

Q

Do you monitor your systems 24hrs/day?

A

Yes. We monitor our systems and will respond to network, system, or application container-level failures 24hrs/day. If you apply a change that breaks the configuration of an operating installation, we may recommend undoing or disabling that feature until the problem can be investigated further. Additional support may be required to repair or restore the environment.

Q

Do you perform daily backups?

A

Yes. Backups are run daily with regular offsite archives to one of our secondary Disaster Recovery (DR) locations. Our backups are designed for disaster recovery purposes. Our retention policy is variable and based upon data volume. This means we can typically roll back to the previous day, week, or month, but with sporadic snapshots between periods. We can accommodate custom backup requirements and DR strategies as a special request.

Q

What database engine do you use?

A

MySQL 5.x comes standard, and is preconfigured as part of the installation. With our EPSILON bundle you have complete control of the system and root-level administrative access to the database server and OS.

Q

Is the Domain Name Registration (ex. <mydomain>.<com>) included in this package or, do I still have to buy my own? What about HTTPS and SSL?

A

We are not a Certificate Authority (CA), and do not handle domain registration unless you care to register as a sub-domain of omegabit.com. We can support names, like "my-site.omegabit.com", provided it is not already occupied. Our Professional Services group can help with public DNS registration on request.

We can also accommodate SSL configuration with our DELTA or EPSILON environments, and assist with the Certificate Signing Request (CSR) generation and keystore installation. We recommend that you use the same CA for your DNS registration as for SSL certificates, for security and ease of administration and control. For US registrations, we typically recommend considering either GoDaddy.com, or NetworkSolutions.com. Both companies have excellent reputations and easy to use administrative tools to manage your DNS and SSL certificates. We can also accommodate privately signed certificates.

Q

Do you supply a dedicated IP address?

A

With our GAMMA bundle, you are provided an IP address that is shared with other tenants of the system. With our DELTA and EPSILON package you're provided a dedicated IP address.

Q

What portlets come installed with your portals? Can I deploy my own portlet developed via plugin SDK?

A

Our installations come standard with all of the portlets included with the Liferay distribution. For a list of included features and supported standards please see:

http://www.liferay.com/web/guest/products/portal/techspecs

We can install some additional Liferay Community Edition Marketplace portlets to the GAMMA environment on request.

With our DELTA and EPSILON bundles you have administrative control to install your own portlets, including your own custom portlets. Depending upon the nature of your portlet, for example if it requires other backend services, the DELTA bundle may not be sufficient. If you can provide us some idea of what your custom portlet is designed to do we can help you to determine exactly what backend dependencies exist. Our goal is to work with you to provide a usable and cost-effective environment for you to manage your customizations while ensuring the security and stability expected of our production environments.

Q

Will I have access to the configuration files, templates (server.xml, *.vm, portal-ext.properties, etc), or the filesystem itself?

A

With our DELTA package we can apply changes to these configuration files for you. With our EPSILON package you have full administrative control of the OS and can apply changes directly. No access is provided with the GAMMA package.

Q

Can I restart the Liferay Server?

A

You can restart all services including the host OS with our EPSILON environment. We prefer to work with you to adjust our monitoring and response policies so that we do not step on your activities in the system. Many of our customers prefer to subscribe to multiple environments to accommodate development and production services with different monitoring policies enforced.

With our DELTA environment, you may request a restart of the portal and request assistance with plugin deploys by placing a support request.

Q

For how long am I committed to using your service once I sign up?

A

Our terms are month to month. Once the initial term is up, you are billed month-to-month unless you have requested a longer term period. We can accommodate quarterly, semi-annual, annual, and multi-year term billing on request.
For more information or questions, Contact Us.

Omegabit, LLC
697 Higuera St., Suite A
San Luis Obispo, CA 93401
P/F 877-411-2220
support@omegabit.com
Inquiries: portal@omegabit.com