Why Choose Liferay?
Think of Liferay as a Digital Swiss Army Knife with lots of tools.
Use what's needed now and know the rest are there for you when you need them.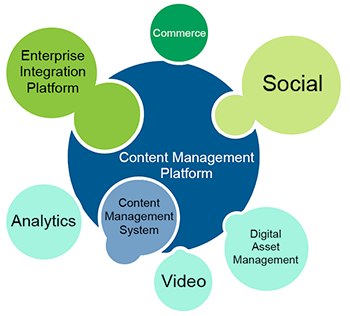 The classic mistake when selecting a Web publishing platform is to get stuck in a box after choosing a solution based on one feature set. Reality is, most portal sites are a progression. What comes next is what you didn't get to last time.
CMS begets social, begets collaboration, begets dashboards, begets custom workflows; it progresses! Let's not forget that user's expectations and tastes are also continually evolving at a rapid pace. Liferay is designed to help stay ahead with easy to use features, enables you to evolve and enhance your site capabilities over time. And, is fully flexible - to break from or customize the "standard form" when needed. Get started with Liferay now, offering plenty of room and features to grow into. And, you won't get stuck with a hacked together, Frankenstien-like solution in the future.
Choose your framework wisely.
CMS, social, and enterprise portals are all vying for position as a one-stop solution, but most only solve one angle: a CMS doesn't typically fit well as a social analogy, and social platforms don't typically work well as a complete CMS. Traditionally, neither is geared for custom development or multi-system integration like a true horizontal portal, which can be difficult to master. Liferay, on the other hand, is built from the ground up as an enterprise-grade integration framework, plus it includes intuitive and easy-to-use CMS, social/collaboration, and document management features, all tightly coupled on the backend and purpose-built for customization - anywhere you require it.
Commercial portal frameworks with Liferay's capabilities typically come with a very high cost of ownership and are usually geared toward a specific brand of technology or solution. Liferay is designed to be inexpensive to operate, technology agnostic and fully customizable.
With Liferay you get the most flexible customization capabilities of any horizontal enterprise portal framework: while most frameworks limit you to API integration, with Liferay you get the source code and can override any part of the framework to achieve a custom result. That's true, open, flexibility. That's Liferay.
This site is Liferay in action! Check out the dynamic themes. Grab your browser window and make it skinny to simulate a tablet or phone display and notice the change in look and feel to match! Learn more about Liferay's features by exploring Liferay as an administrator. Do a test drive and get familiar with all of the Liferay features. Sign Up Now and get your environment setup started today. Once you are set up, check out these Resources to customize your Liferay and make it into the portal you envision!
The award-winning Liferay Portal sets itself apart with just the right balance of practical functionality, usability, and technical innovation.
Liferay is a comprehensive enterprise-class horizontal portal at an unbeatable price. It comes with great out-of-the-box features plus, the ability to be used as a full-blown integration framework for custom applications.
With Liferay you can start lite and get going fast. Use what you need now, and rest assured that your portal can grow to meet your needs as they evolve. Liferay's modular design makes it easy to focus on content and workflow while the framework ensures a fast, secure, cohesive user experience across desktop and mobile.
These days users expect a transparent "access-everywhere" experience across desktop and mobile devices. Liferay's dynamic theme framework supports all platforms and browser formats from a single, client-aware package that provides an excellent mobile device and user experience out-of-the-box.
Features like drag-and-drop content and digital asset management, social interaction, and customizable workflows make it easy for you to create a rich and engaging experience for your audiences. Whether you are starting from scratch to create a new application, or want to mash-up or modernize existing systems, Liferay is the perfect fit with a low barrier to entry and huge headroom for growth.
Liferay comes standard with easy to use enterprise-grade features including:
Dynamic layouts and themes: serve desktop and mobile users from one cohesive application.

Liferay's dynamic themes support all devices from a common look and feel and provide an excellent, device sensitive native mobile experience out-of-the-box. Liferay's mobile SDK can drive your custom iOS and Android apps to create the ultimate native+live content experience for any purpose.

Content Management System (CMS).

Build your website with Liferay's enterprise-grade CMS with a simple WYSIWYG editor, or leverage the full suite of enterprise-grade CMS controls including versioning, scheduled display, custom structures and templates, approval workflows and more.

Comprehensive Document Library & Digital Asset Management. Liferay's Document Library, Digital Resource Management, Digital Asset Management (DL, DRM/DAM), engine provides a sophisticated file storage facility for sharing, change management, searching and previewing digital assets and can be combined with the CMS to create a custom catalog for virtually any purpose. The document library includes version control, WebDAV (desktop) file sharing, video tagging/segmentation and supports custom workflows. Liferay Sync adds native file sharing and offline synchronization for mobile and desktop users.
Social Social Social! Liferay includes feature-rich Forums and Message Boards, Wiki, and Blog engines complete with moderator controls, social equity and rating, flagging, related assets, and auditing. Social features can easily be embedded into subject-specific pages, stored assets and other portal content to add collaboration and context to projects and work-in-progress collateral (a simple example: teams can share, comment, rate, and see the version history for a common document).
Office Collaboration - Own your data.

Drop-in

Social Office

for instant project/workgroup-style office collaboration: A single Liferay can serve as your secure and private collaboration center that combines the best benefits of services like BaseCamp, Facebook, Google+ and Search, and DropBox, into one cohesive, secure service that is fully portable, and dedicated to your purpose.
Liferay is drag-and-drop easy.

Use all of Liferay's intuitive publishing and other plugin features with ease via a standard browser and drag-and-drop conventions. For seasoned application developers and integrators, Liferay also comes with comprehensive Java programming API, SDK, and IDE tools for complete extensibility. Thanks to Liferay's powerful integration tools, most customizations inherit advanced functionality like caching, db transaction optimization, and Web services with no special rigging. In addition, Liferay provides a top-shelf change management and control methodology that makes it easier to extend, enhance, and maintain your site. With Liferay you spend more time innovating and less time integrating.

Access to an enormous library of additional plugins. Liferay includes an entire family of free and commercial plugin applications to extend the features and look and feel of the portal to meet your specific needs. Check out the Liferay Marketplace to see what's available now.
Vertical Applications.

Liferay provides a wealth of features out-of-the-box, and also serves as an excellent vertical solution for applications like

ForgeLife eCommerce

, product catalogs, custom business intelligence dashboards and more. A number of turnkey vertical application plugins are available for installation directly from the

Liferay Marketplace

. Or, use the Liferay SDK to create a fully integrated solution that is immediately web and mobile accessible, and wrapped in the ideal modern backend framework for unbridled expansion and flexibility.

Identity Management integration and Single Sign On (SSO).

Liferay supports the broadest variety of directory and SSO engines out-of the box, and can be extended to accommodate any custom IM workflow requirement.

ERP or CRM and proprietary integration-ready and willing.

Liferay is designed for comprehensive dashboard and back-end systems-of-record integration with one of the most open and extensible APIs available, and includes complete source code that you can override and control. Liferay includes sophisticated development interfaces for Web services integration and brokerage (JSON, REST, SOAP, CORBA/ORB capable), SSO deep-linking, WSRP and Java Portal Specification portlets (JSR-286), embedded Flash and AJAX controls and widgets, Velocity and Freemaker templates, Alloy and YahooUI widgets and controls, as well as many other popular standards for distributed application integration, rich UI design, and front-end mash-ups.


for Clubs/Organizations
Share Files, Message Boards

Organize Committees

Promote Your Organization

Post Pictures

Plan Meetings and Fund Raisers

for Business
Secure Sharing for Clients & Partners

Social Feeds Keep Everyone Informed

Public and Private Spaces for Brand, Intranet, and Extranet Sites

Complement or Enhance Existing Sites

for Special Interest
Private Storage and Invitation-Only Spaces You Control

Create Private Label Promo Sites for Any Purpose -No Ads, No Restrictions

Use a Pre-Built Theme or Create Your Own

Add and Update Content On-The-Fly

for Social
Includes built-in hooks for Facebook, Twitter, LinkedIn

Create a central private label space for all your blogs, wikis, forums, and galleries

Push content out and make social links back to your site

Use for SEO enhancement and optimization