We Are More Than a Little
Obsessed About Your Portal.
Expert Liferay Hosting, Managed Services, PaaS (Platform as a Service), and Technical Support. Specializing in cost-efficient Liferay host runtime operations, site optimization, security, and end-to-end technical support.
Omegabit is the longest operating Certified Liferay Partner and hosting provider, servicing Liferay DXP and 7.x, and all previous versions. We are proud to feature over a decade of experience with more Liferay installations of all types and configurations than any other Certified Hosting Partner. Featuring a private, Liferay optimized cloud host infrastructure with 24x7x365 emergency response to all layers, we offer faster performance, better support, and more Liferay hosting value for your money.
We optimize your installation for every release, configure according to Liferay best practices, and secure everything out-of-the-box. And, we've got many options for acceleration and tuning depending on your use case. We'll help you to find the best balance between cost and benefit. Contact us today for details on a solution tailored for your specific needs.

Cloud Hosting for Liferay DXP
Private Cloud Hosting Tailored and Optimized for Liferay DXP - or any Liferay Version
Are you shopping alternatives to DXP Cloud or require a tailored solution? We offer best-of-class performance, security, and flexibility that out-performs public clouds and on-prem infrastructure, with lower costs and transparent pricing.
Ask us for a quote before you lock-in to a long term agreement with another provider!


These pre-built options are powerful, secure, and well organized.
They meet or exceed requirements for most Liferay installations.
All Installations Include 24x7x365 Liferay Aware Monitoring of all Layers and Services
Emergency Response and Liferay Certified Technical Support • Money Back Satisfaction Guarantee • Cancel Anytime
Need something different?


Delta
Dedicated installation, full Liferay Admin control, for workgroup-sized user loads.
$39.99/mo
1000s of guest visitors
Shared Multi-Core Server
1 CPU allocation, managed, no direct access
2GB JVM memory
50GB dedicated file storage
MySQL Database
managed, no direct access
Virtual Scaling
for Liferay Sites and Instances
Custom Plugins
supported
SECURE
multi-layer security plus active firewall
Liferay Aware Monitoring
& Emergency Response
24 hour x 365 days

Epsilon Pro
For enterprise & business-critical applications, scale, flexibility on-demand. Starting at
$169.99/mo
1000s of guest & authenticated users
Dedicated Server
2+ CPU cores, full root access
4GB+ memory (OS+Services)
250GB+ dedicated file storage
MySQL Database
dedicated, full root access
Full Scaling
vhost, vertical and horizontal
Custom Plugins & Services
supported
SECURE
multi-layer security plus active firewall
Liferay Aware Monitoring
& Emergency Response
24 hour x 365 days


Custom Tailored Solutions
For high performance, high security, and compliance sensitive environments, we are your trusted advisor. Our team will consult with you and apply our Liferay hosting expertise to build and deploy a tailored solution that fits your specific needs. We help right-size and optimize your environment for the most secure, efficient and responsive implementation possible. This professional guidance is provided at no additional cost as an exclusive benefit of hosting with Omegabit.
Contact Us for information regarding your custom configuration.
More Value for your Hosting Dollar
Your host infrastructure with Omegabit comes complete with private networking, active firewall protection, preconfigured security and other advanced features out-of-the-box at no special cost. And, we build to suit to meet special requirements.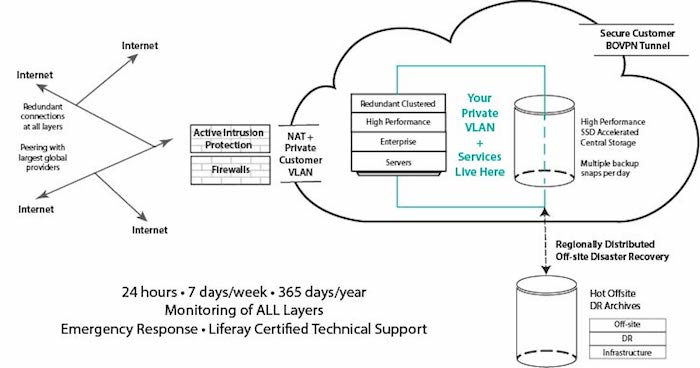 Do your homework now, then relax. Know what to look for in a hosting provider.

High User Concurrency
High Availability
Elastic, Docker, Kubernetes
Redundant Distributed Hosts
Up to 64CPU Cores per Node
Up to 500GB RAM per Node
Unlimited Disk Storage
Distributed Infrastructure
Full On-demand Scaling
Secure
Compliance Ready
SOC-2, PCI, GDPR


Exceptional Speed and Performance
We specialize in Liferay optimization and performance tuning. Our environments are guaranteed to provide more performance out-of-the-box, with more flexibility to optimize for your specific needs than any alternative.
Most customers find our standard environments perform exceptionally well with no special configuration. For applications with advanced optimization needs, we support integration with popular cache and acceleration layers including any Content Distribution Network (CDN), Apache offloading, Varnish, Pagespeed and other edge acceleration techniques. Our engineering team can help advise on architecture and design decisions for custom plugins, which can have orders-of-magnitude of impact on page delivery times and user experience. Our optimization experts are more well-equipped to advise on these matters than any other hosting provider, and they bring a wealth of tools and experience to each analysis.
Large-scale, high-performance, and custom implementations can be further optimized by custom-tuning your Liferay. For a FREE, no obligation performance evaluation or more information:

Best-of-Class Security and Infrastructure
Hardening a sever takes hours. But, you may never recover from a breach. Liferay is not secure out of the box -unless you host with us. We make sure your installations and backend infrastructure are locked down before they're activated, and keep them that way.
Today's attack vectors look for thousands of common security holes in your server and application. Most successful exploits are less than 6 months old. Our active firewalls update hourly, and our security countermeasures and methods are constantly improving to protect against evolving threats to your Liferay operations.
Our private cloud infrastructure is secured and managed specifically for Liferay operations from regionally distributed, world-class colocation facilities. Our SOC-2 Type II certified, PCI-compliant facilities are attended by on-site personnel 24x7x365 and include human and biometric identity verification for access control.
Contact us for a free, no-obligation security evaluation.


Liferay Certified Technical Support
If it has been done before, or is a known behavior, we have probably seen it. Get technical support for your Liferay Community or DXP installation from the only hosting provider that is Liferay Certified and staffed by professionals with decades of experience implementing and hosting custom Liferay solutions of all shapes and sizes. We also offer Liferay Tier I Technical Support for DXP subscribers and to help speed response times and cut to the chase on known issues with Liferay, directly. We help with the legwork and analysis, so you can focus on using your Liferay application.
We monitor for and respond to emergencies 24x7x365 and respond within minutes. Our infrastructure is highly redundant to help protect against unplanned outages at all layers. And, we will work with you to ensure a highly available implementation of your application that achieves the best balance of cost and resilience, based on your business needs.
| | |
| --- | --- |
| For general inquiries: | Get Support Now: |

Ask our live chat about our FREE Performance and Security Tune-up.

Custom Clouds and Containers
81% of enterprise companies now run workloads in the cloud (split almost evenly between public and private clouds). With cloud computing has come "custom clouds" and hybrid clouds as well as container environments.
Omegabit can accommodate most any configuration for your Liferay environment - distributed, hybrid, container based, etc. Contact us today for an informed analysis of your specific requirements and learn about options that work best for your application design. We're here to advise and assist.


Self Service and Managed Support Options
Every Omegabit environment comes complete with Liferay Certified standard technical support and emergency response. Our seasoned Professional Services group can also serve as an extension of your development and administration teams to help with ongoing change management, optimization, security, and other critical lifecycle maintenance.
Our prebuilt containers are just right for most installations. They're tidy, secure, and closely monitored and ready for production. Advanced monitoring and performance analysis tools are also available for those that desire deep insight into application performance. Should you have special requirements, tell us about your needs and we'll make it happen. We support Liferay DXP 7.1 and all previous versions.


Comprehensive Managed and Professional Services
Omegabit is here to make sure you get the most out of your Liferay installation. We offer a full range of comprehensive managed services. From DXP Migration and Support to Custom Load Testing, Identity Management Integration, Performance Optimization, and Security, we can manage it all, saving you time and money.

Moving to DXP? Get there faster.

Our ready-to-use environments are perfect for development, migration, and production. Leverage our experience with hundreds of custom Liferay builds to get your content, plugins, and plumbing upgraded to the latest Liferay version, safely and swiftly. We have the inside scoop on methods and means of upgrading that are not always available to the public.
We have more experience with Liferay upgrades than any managed services provider, and offer quick-start and comprehensive migration services. Our engineers are also experts at Liferay API integration and can help your teams make informed design decisions when upgrading existing custom code, and provide guidance on how to best leverage new framework features.

Performance Tuning and Optimization
Minor tuning can shave seconds off your page load time and increase your site's Apdex score.
We are Liferay experts that can help optimize your Liferay infrastructure and site pages. We help identify and help to fix over 20 common sources of performance bottlenecks and ensure your site is running at optimal speed.

Identity Management
Liferay includes sophisticated, built-in support for Single Sign-on (SSO) and identity integration with many popular standards. Because identity management is core to modern application infrastructure, we specialize in identity and SSO integration using Liferay as both a client and system of record for a variety of standards including Active Directory, SiteMinder, SAML, CAS, OKTA, and many others.
Our engineers are experts at custom integration and support for features like advanced metadata handling and user deprovisioning.
Ask about our multi-tenant SAML plugin implementation supporting the latest 256-bit encryption, advanced debugging, SAML 2 security fixes, and the ability to be a unique Service Provider and/or Identity Provider on a per-site basis.

Developer Lifecycle Support
We're Liferay developers, too. We understand your needs in terms of change management, quality control, and predictability. Our Professional Services and Engineering teams are at the ready to provide assistance, ranging from general approach guidance, to lifecycle process documentation and automation, to full custom development.
For Liferay implementations that evolve over time or are regularly updated, automating change management and push processes can reduce administrative overhead and help ensure a consistent and repeatable result with each deploy. Let our team devise an approach that is easy to use and maintain, and helps accelerate your development lifecycle and minimize bugs, leaks, and stability issues before they make it to production.

Omegabit, LLC
697 Higuera St., Suite A
San Luis Obispo, CA 93401
P/F 877-411-2220
Inquiries: portal@omegabit.com