Upgrade to
LIFERAY DXP
Leverage our experience with hundreds of custom Liferay builds to get your content, plugins, and plumbing upgraded to the latest Liferay version, safely and swiftly.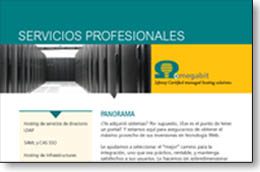 Servicios Profesionales
Omegabit ofrece una gama completa de servicios profesionales. Desde soporte para Enterprise Edition hasta servicios de prueba de carga personales, Escalamiento y optimización del rendimiento, podemos manejar todo, ahorrándole tiempo y dinero.
Find out how we can help you get to the latest and most capable version of Liferay with confidence. Our Liferay experts can help modernize your current portal infrastructure including custom plugins and integrated services. We have more experience with Liferay upgrades than any managed services provider and offer ad-hoc and comprehensive migration services and support. We feature on-demand Liferay optimized host infrastructure for all phases of development and production. Contact Us
Liferay DXP Migration Support
Moving to DXP? We can help. Let us help to ensure your transition is smooth. Whether implementing DXP from scratch, or as part of a migration from a previous version of Liferay, we'll help you make informed choices and assist with sandboxing, change management, custom plugin porting and other key procedures using proven migration methods.
Liferay DXP Support Subscription
When you purchase Liferay DXP (Enterprise Edition) with a Support Subscription, you get direct access to Liferay's engineering-grade Technical Support team to help troubleshoot, support, and provide custom hotfixes for the Liferay framework. Liferay Support is invaluable for custom, large-scale, and high performance installations to help address mission critical problems direct from the source. You also get access to Liferay's exceptional Developer Studio tools, resources, and training collateral reserved only for enterprise level subscribers.
When purchasing DXP with us, we also become your Tier-I support provider. This can help cut down substantially on your team's support overhead. Our experienced, professional staff help you to trap and document issues, manage your Liferay support communications, and gather necessary information so that you can get problems resolved swiftly and efficiently.
If we've seen the problem before, we'll save you the trouble by supplying a fix directly. If an issue needs escalation to Liferay, we help save time and effort by documenting the problem and managing the communications on your behalf (you always have a direct path to Liferay as well—we co-manage the tickets as your concierge to help coordinate the diagnostics and repair).
Let us help you get the most from your infrastructure.
Omegabit is here to make sure you get the most out of your Liferay infrastructure, the footprint size and configuration, and to help inform design choices that can impact performance and the number of users your portal can sustain. We can advise on design approach and economies of scale, how to maximize your licensing dollars, caching and acceleration, and other optimization strategies that can ensure that you get the fastest, most scalable Liferay environment for your hosting dollar.
Get more information on Liferay DXP (Enterprise Edition) Support Subscription options, or Contact Us.

Omegabit, LLC
697 Higuera St., Suite A
San Luis Obispo, CA 93401
P/F 877-411-2220
Inquiries: portal@omegabit.com