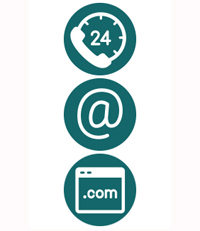 Liferay Expert Support
Get technical support for your Liferay 7.x or DXP installation from the only hosting provider that is Liferay Certified and staffed by professionals with a deep background of experience implementing and hosting Liferay.
Omegabit technicians are trained to provide timely troubleshooting and resolution of issues. When you contact us regarding an outage, a technical question or for assistance with a technical decision, our main priority is to answer your questions fully and resolve any issues. We care about you as our customers.
Our infrastructure is highly redundant to help protect against unplanned outages at the physical layer, and we will work with you to ensure a similarly stable logical configuration to the best of our abilities. We do not assume responsibility for outages due to customizations or modifications to the system; for example, if a custom plugin causes breakage to the portal, our recommendation will be to uninstall the plugin.
Many questions can be answered by visiting the Omegabit FAQs.
Preferred Method of Contact:
Severity I (services unavailable), and Severity II (services severely degraded): issues should always be reported by telephone, and optionally by email. An initial response time within 2 hours is promised for Severity I issues, and 4 hours for Severity II issues, regardless of notification by automated alert or customer contact.
Severity III (non-critical services degraded, non-operations critical, or relating to a known Liferay behavior or limitation, non-critical change order requests, inquiries concerning using Liferay, etc.): issues should be communicated by email, and optionally by telephone. An initial response time within 24 hours, during normal business operating hours (Monday-Friday, 10am - 6pm, PT), is promised for Severity III issues.
Get Web Support
You may self-register and submit support issues to our help desk on the web at: https://help.omegabit.com
Emergency Telephone Support
Urgent support issues (for exampe, your site is down) may be addressed by calling 877-411-2220 (or 805-265-5408 for international calls) and pressing 2 for operator assistance.
We monitor for and respond to outages 24x7x365 with a response time of 4hrs or less.Whenever you call you can be assured you'll reach a live person and not be forwarded into an endless automated phone tree.
To help us resolve your technical issue in a timely manner, include the following information in your email or phone call:
Your Name and Company and or Site Name

Contact information

Explain the issue in full detail, including any steps you may have taken to attempt remediating the problem yourself

Any previous or recurring issues that may be related to the problem

Any other information that may pertain to the problem or assist us in diagnosing the issue
Professional Services
For information regarding Professional Services and custom admin support please call 877-411-2220 x1, or use this form to Contact Us.
Billing and Account Support
For account or billing inquiries please contact your account representative or use this form to Contact Us.
Omegabit customers who signed up for automatic payments through PayPal will be automatically charged each month on the same date you originally signed up.
For all other accounts, you'll receive a monthly, quarterly, semi-annual or yearly invoice (depending on the terms negotiated upon implementation). The invoice will be sent to your preferred email address(es). Payments may be submitted via PayPal, by check or wire transfer.

Omegabit, LLC
697 Higuera St., Suite A
San Luis Obispo, CA 93401
P/F 877-411-2220
Inquiries: portal@omegabit.com