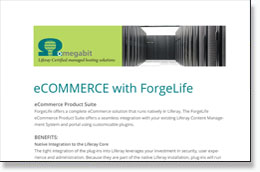 eCommerce Product Suite
The ForgeLife eCommerce Suite plugin for Liferay provides shopping cart, online mall/store, targeted ad serving, plus 65 other customizable portlets for a comprehensive online shopping experience embedded native in Liferay!

You can get Liferay + ForgeLife eCommerce here.
We're happy to arrange for a trial environment that you can grow into. Visit ForgeLife for more information on the eCommerce solution developed to work seamlessly with your Liferay installation. Let Omegabit host your ForgeLife eCommerce implementation in our PCI compliant facility.
CONTACT US NOW or Phone: 877.411.2220 • Int +001 805-265-5408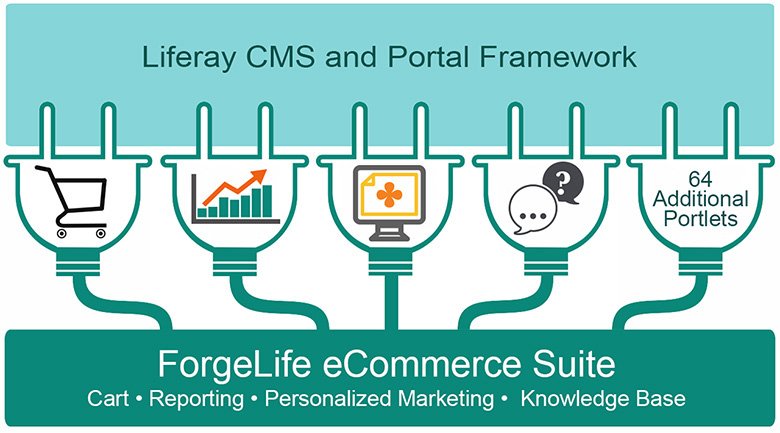 Add eCommerce to Your Liferay with ForgeLife & Omegabit
ForgeLife offers a complete eCommerce solution that runs natively in Liferay. The ForgeLife eCommerce Product Suite offers a seamless integration with your existing Liferay Content Management System and portal using customizable plugins.
Built to support the most common eCommerce needs for companies ranging from small-to-enterprise, the ForgeLife eCommerce solution is scalable when your business needs require it.
ForgeLife eCommerce works great out of the box. The Suite also provides an easy means for existing Liferay implementations to seamlessly add eCommerce to the mix. ForgeLife is designed to drop into your existing Liferay installation, while preserving the scalability and operation of your Liferay portal. It provides a more flexible, lower cost solution than competing eCommerce platforms.
The eCommerce Product Suite brings highly customizable eCommerce capabilities directly to your Liferay implementation without the need to link to an external eCommerce application. The four main components of the suite include:
ForgeCart: is a complete, Java-based, enterprise shopping cart application. ForgeCart consists of 25 end-user facing shopping cart portlets and several feature-rich portlets for administrators.
ForgeAds: is an advertising solution with seamless integration of OpenX. The seven portlets included allow administrators to target ads based on browsing history, user profile, and web content based on tags and categories.
ForgeBIRD: a Liferay-based Business Intelligence (BI) solution with seamless integration of the JasperReports engine. Generate dynamic BI reports in tabular or graphical formats.
ForgeKB: a Liferay-based Knowledge Base (KB) solution that enables content creators and publishers to consolidate and manage the most accurate information in one place by authoring articles and organizing them in a hierarchy of navigable categories.
Benefits
Native Integration to the Liferay Core. The tight integration of the plug-ins into Liferay leverages your investment in security, user experience and administration. Plug-ins will run faster and more securely than external applications or services.
Flexibility. A ForgeLife eCommerce implementation can include native plug-ins as well as additional linked services.
Omni-Channel. Because the ForgeLife eCommerce Suite is built to run natively in Liferay, it is inherently multi-device and multi-target aware. Multi-format preview capabilities make quick work of publish-once-show-everywhere content management.
Flexible Data Management. Implementing eCommerce using Liferay allows access to Master Data stored in the Liferay platform to help inform and personalize content, ads, and promotions.
Cost Effective. ForgeLife is committed to making its Liferay eCommerce product suite the best value in total cost of ownership in the industry.
Easy Access to Customization and Support. The ForgeLife expert team of professionals provides comprehensive implementation and support services to customize your build to match your brand and workflow requirements, provide backend integration, and keep things running smoothly.

Omegabit, LLC
697 Higuera St., Suite A
San Luis Obispo, CA 93401
P/F 877-411-2220
support@omegabit.com
Inquiries: portal@omegabit.com